Sports Nutrition, Athletic Performance and Competitions:
Are you a runner, football player, rugby player, swimmer or involved in high school or college sports? Would you like to increase performance to reach higher levels? Do you want to change your physique and have a more toned or bulkier look?
Visit a location near you to learn about how our clinical services can support your athletic performance
Firstline Nutrition Supports Athletic Performance
*Results may vary from person to person
My name is Jean Blanchette Member of team Canada as a paddler. As a athlete on a world level I need 3 major key , to succeed. right coaching , hard training , and perfect supplement , for that part I use first line nutrition and their staff to oriented me in the right direction , they have the perfect balance of technologies and human approaches to bring you to the next level ,In preparation for my second world championship who will happen in Brazil I know I will reach my goal if I got the right team with me and first line nutrition is a big part of it.
*Results may vary from person to person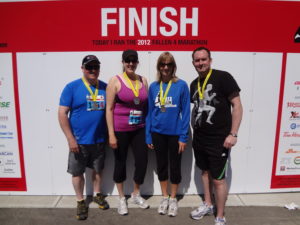 Not only has First Line and it's staff helped me meet and exceed my goals, they have also taught me how to protect and nourish my body. I would recommend that anyone preparing for an event or simply wanting to live a healthier lifestyle visit First Line Nutrition and see Richard and Pauline.
Personal Testimonial of Scott Craig: Approximately 6 months ago I approached Richard and his staff looking for assistance to burn body fat and gain more energy. Instead of walking out of his store with a couple of products, I walked out with a plan, regiment and education that has changed my entire life. I was running recreationally at the time and not experiencing much success. The program First Line Nutrition put me on not only helped me reach my goals but exceed them greatly. I have more energy than I know what to do with and feel better about myself than I ever have my whole life. I ran my first half marathon on October gth and came in way under my goal time. My recovery time is one of the best parts of the program. 24 hours after my half marathon I was swinging from a rope and zip-line obstacle course near Revelstoke, British Columbia. I easi ly kept up to my 16 year old daughter. I will run a few more half marathons in preparation for a full marathon next summer/fall. I know with hard work, determination and the continued guidance of First Line Nutrition I will succeed and excel. My body, joints and mind have benefitted greatly from their knowledge and expertise. Once sore muscles and joints have been replaced by a strong, fit body ready to take on the next challenge. I was able to climb Mount Temple in July with ease and excess energy at the end of the day! My experience with First Line Nutrition has changed my health, fitness and life so profoundly that I am getting my 63 year old Mom onboard. She has health challenges and is facing a knee replacement surgery soon. I know through me with the aid of First Line Nutrition's staff knowledge and guidance she will recover and life a much more full life. I send out a sincere Thanks to First Line Nutrition for their continued support and assistance with helping me reach and exceed my goals!!
Being a professional MMA fighter, Nutrition is a key ingredient to a successful training camp. I've had many problems with blood sugar management and my nutrition. Diabetes runs in my family and so I've had to be that much more diligent to keep it all in balance. Since coming to Firstline Nutrition, the Health Care Practitioners have helped to keep my health in line and I've been able to reach higher Potentials in my training camps than otherwise. Some of the services I had done were body mass Indexing, Biomeridian Assessment and Nutrition planning. Before working with Firstline I was a supplement enthusiast but not receiving the results I wanted. My health now is better overall and my weight has dropped to a weight class that I can fight in. When your health is out of balance, it's a struggle to maintain energy levels and especially difficult when you have to perform. Firstline Nutrition helped me create that power potential! needed to bring everything to a higher level. SIGNED (Nick Penner)
During training camp, it's quite normal to get sick. This time around was much different. I was bed ridden for days. I decided to give Richard a call to see if there was anything he could do for me, seeing as I was only 5 weeks out of a fight. Two days after seeing him I was back at it, and on the third day I was a training machine. I've never seen or heard of results like that. It's good to know that I can always count on First Line to bump me back up when training isn't going as it should.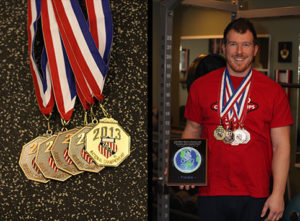 This past October I was able to compete on team Canada at a world DRUG FREE powerlifting event in Las Vegas. I was given this opportunity because of my performance competing at the national level. I have been training under the guidance of Richard at First Line Nutrition. He has been working with me on both the nutritional requirements, as well as the training in the gym, to become a world competitive athlete.
At nationals our teams were scheduled to be playing a game every day for 5 days at a very high level. Our athletes as well as the other provinces were subjected to extensive amounts of fatigue during this tournament which could affect their ability to execute effectively on the field. Richard continued to work with us as a consultant during our time at nationals from back in Edmonton, providing us with information and support needed to allow our athletes to maintain performance. We received comments from the tournament kitchen staff about how our teams were eating the best of all the teams throughout the tournament and how impressed they were with their choices. With the help of Richard our teams began to show less fatigue and injury compared to the other provinces, and as the tournament continued we as coaches could see it in their ability to maintain a high level of play while other teams could not. Because of this both the U16 and U18 boys teams achieved a Second and Third Place Finish at nationals medaling at the same time for the first time ever. We as coaches have no doubt that Richard and First Line Nutrition played and essential role in helping us and our athletes achieve these goals and look forward to working with Richard and First Line Nutrition in the future for the benefit of our athletes.